Camu Camu
This isn't a fruit you'll find on a tree or bush in your neighborhood. Camu Camu mostly grows in flooded areas of the Amazon rainforest in Peru where its fruits and leaves are used for medicinal purposes.
This tropical plants produces a lemon sized, light orange to purplish red fruit with yellow pulp. Camu Camu is packed with more natural vitamin C than any other food source recorded on the planet, in addition to beta-carotene, and other minerals, these powerful phytochemicals and amino acids have a surprising range of therapeutic effects.
---
Add to Cart
Nutrition Facts
Camu Camu is high in antioxidants; it provides arthritic protection by helping reduce inflammation and strengths tremendously the immune system. Supports optimal function of nervous system including eye and brain functions. Powerful source of Vitamin C (60 times more per serving than an orange), Camu Camu is also an effective and natural antidepressant. Natural health specialists claim that Camu Camu has anti-viral properties that can help with cold sores, herpes, shingles, and the common cold.
---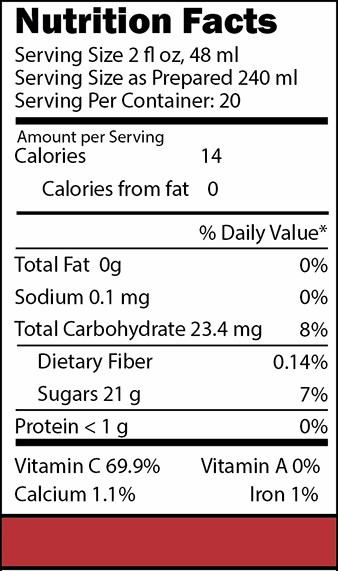 Preparation
Add up to three cups of water to one cup of Purple Corn concentrate. It does not require sugar. Just stir and serve. One Bottle of 32oz yields 1 gallon of Camu Camu juice.
---


Natural Sugar
---

Low Calories
---

Natural Flavor
---

Healthy
---