Mango Drink
When you think of Peru, you likely imagine the Incan ruins of Machu Picchu or the llama like vicuña, the country's national animal. But, did you know that Peru is the second largest supplier of mangoes to the United States? In fact, Peru has over 59,000 acres of Mango plantations along its coast, and exports more than 70,000 tons of mangoes each year across the world. In Peru, mangoes are grown in the North and Central regions of Peruvian coast. As mangoes grow in the summer, the season lasts from November to April and it is one of the largest producers of the fruit in the world.
Peru currently is the third biggest exporter of Mango in the world, after having surpassed Ecuador three years ago. Its main competitors are Mexico, which ranks number one, and Brazil.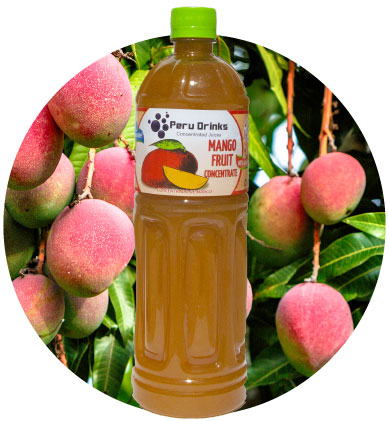 ---
Add to Cart
Nutrition Facts
The generous amounts of vitamin C and vitamin A in mangoes, plus 25 different kinds of carotenoids keep your immune system and brain healthy and strong. The antioxidant compounds in Mango juice have been found to protect against colon, breast, leukemia and prostate cancers. Additionally, controls blood pressure, aids in managing diabetes, helps maintain a healthy heart and eliminates indigestion and acidity.
.
---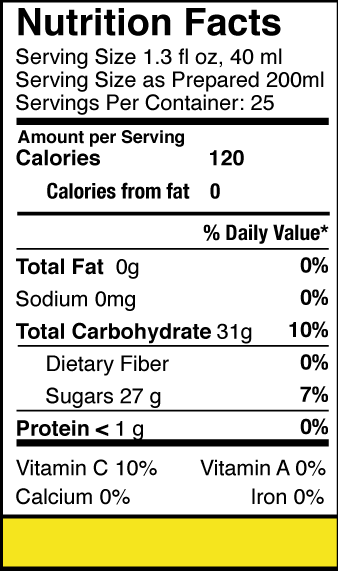 Preparation
Add up to three cups of water to one cup of Mango concentrate. It does not require sugar. Just stir and serve. One Bottle of 33 fl.oz yields 1 gallon of Mango juice.
---


Natural Sugar
---

Low Calories
---

Natural Flavor
---

Healthy
---